Supply Chain 'Normal' Appears on Horizon, With Sights Set on March
Several gauges show ship congestion continues to clear up even as shortages persist
Few observers have had a better perch to watch the pandemic slowly clog — and now free up — one of the biggest arteries of global trade than Captain J. Kipling "Kip" Louttit.
Two years ago this week, as fully loaded container ships congregated off the coast of Southern California, Louttit's team of marine traffic managers for the ports of Los Angeles and Long Beach started keeping daily records on a spreadsheet that today measures 736 lines and 13 columns. Their mission: organize a queuing system to ensure that vessels as long as the Empire State Building is tall navigated San Pedro Bay in a safe and orderly way.
The bottleneck started with five ships on Oct. 15, 2020, then pushed past 40 in February 2021 as Americans snapped up merchandise for their Covid confinement. The line dipped to nine in June 2021, then swelled above 60 this time last year before peaking at 109 in January. But like many benchmarks of supply-chain pressure lately, this one is dwindling. Just eight ships were on the arrival manifest as of late last week.
Even Louttit's staff feels relief from the pressure.
"Our workforce is now managing reasonable levels, and the stress level is down," said Louttit, a former Coast Guard officer who's the executive director of the Marine Exchange of Southern California & Vessel Traffic Service Los Angeles and Long Beach. "We're back to being in a good place."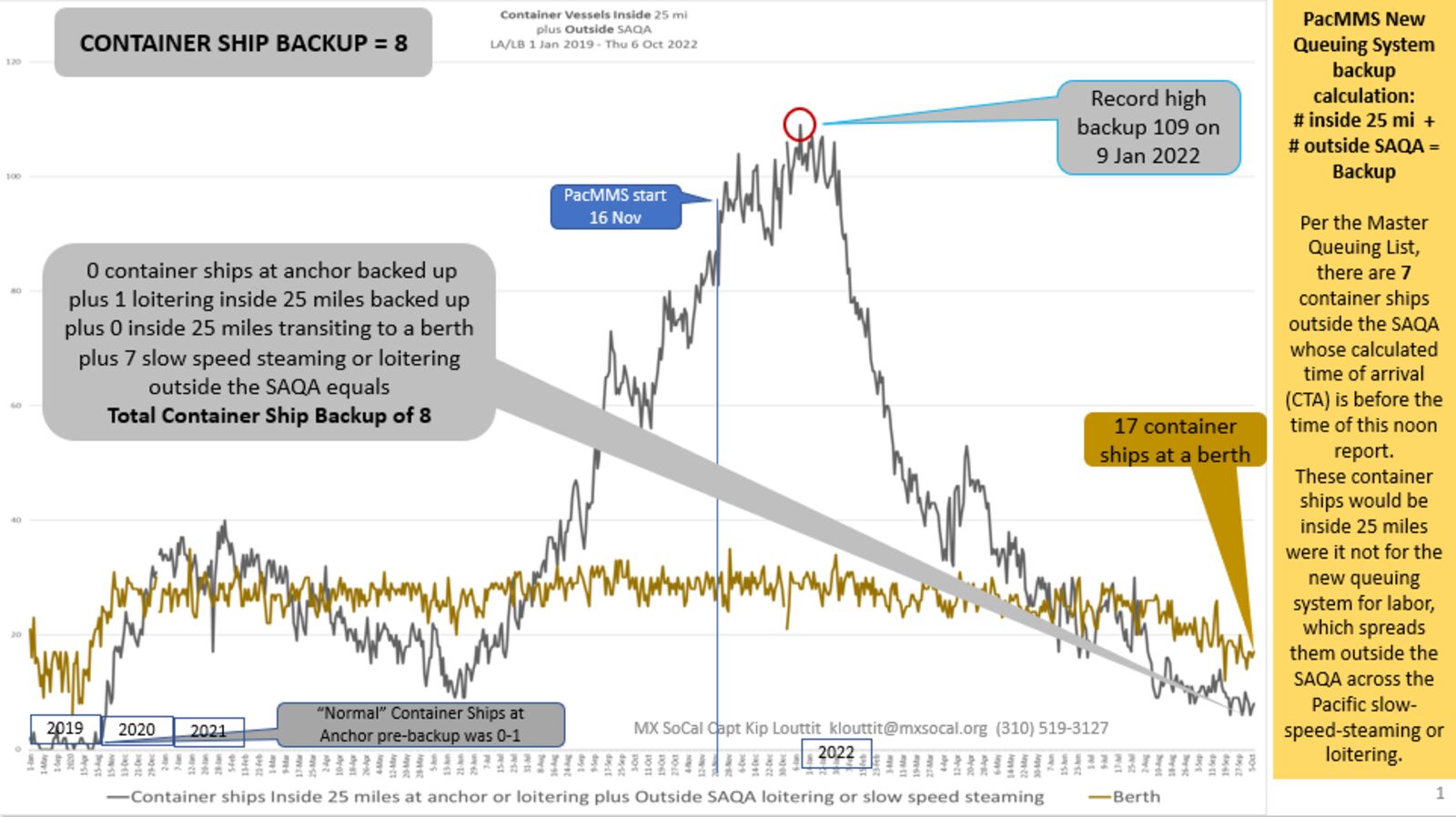 In supply chain circles battered by two years of chaos, the word "normal" is creeping into the outlook for 2023. According to the latest Logistics Managers' Index, "September's future predictions hint at normalization and a return to business as usual over the next year."